If Mainframe Studios is able to lease another floor of artists' studios, it will become financially self-sustaining. But first, money is needed to pay for renovations.
BY KATHY A. BOLTEN, Senior Staff Writer
Friday, September 13, 2019 6:00 AM // Read the Story // Download PDF //
Supporters of Mainframe Studios are making an ambitious push to raise $5.5 million in the next two years to pay for the completion of renovations in the building that houses affordable workspaces for artists and low-cost office space for nonprofit arts groups.
Since the inception of the project five years ago, about $8.8 million has been raised to pay for renovations and other expenses.
The three already-renovated floors at Mainframe Studios, which opened in late 2017 at 900 Keosauqua Way, are filled and there is a waiting list of more than 100 artists who have paid a deposit for future studios. Currently, 89 tenants lease 71 studios of varying sizes. When fully built out, Mainframe will house 181 studios.
Plans call for renovations of a fourth floor to begin by November and be completed by next summer. Renovations of the fifth and final floor would begin in late 2020 or early 2021.
Mainframe will be financially self-sustaining once construction of a fourth floor is completed and fully leased, supporters of the nonprofit say.
Mainframe Studios currently has an annual deficit of nearly $165,000, according to its published operating budget. With another fully leased floor, Mainframe will generate nearly $670,000 in revenue, enough money to cover all expenses and still have $24,000 for a reserve fund. At full capacity with 181 studios leased, Mainframe will generate more than $890,000 in revenue as well as have $75,000 in reserves and $110,000 for an endowment for artists, a cash flow analysis shows.
"Once this is fully complete, it's going to be even more special than it is now," said Justin Mandelbaum, a local real estate developer and founder and board president of Mainframe Studios. "Our goal is for our open studio events – First Fridays – to be as widely known as the farmers market. Essentially a farmers market of art – where people come in and there's always something new to see."
Idea for artists' studios not new
Mandelbaum was involved with a similar project in the Boston area when he lived on the East Coast.
There, he helped renovate a brick warehouse into about 250 studios for artists. "By the time it opened, it was full," said Mandelbaum, who eventually sold his interest in the project, which is still operating today.
When he returned to Des Moines he thought a similar concept would be feasible, but only if he could find a way to provide affordable studios to artists while also making the project viable financially. He opted to operate the project as a nonprofit rather than traditional for-profit business.
Mandelbaum also found a ready-made market for the project. Art316, a building with studios on Southwest Fifth Street south of Martin Luther King Jr. Parkway, had closed, leaving more than 20 artists without workspaces after the building's owners decided in 2015 to convert the former warehouse into lofts.
Mandelbaum provided space, rent-free, for several of the displaced artists at Mainframe while its renovations were underway.
Today, Mainframe's three floors include an eclectic group of artists whose disciplines range from clothing and fabric design to salsa dancing, printing, music, jewelry making, glass blowing, photography and game development.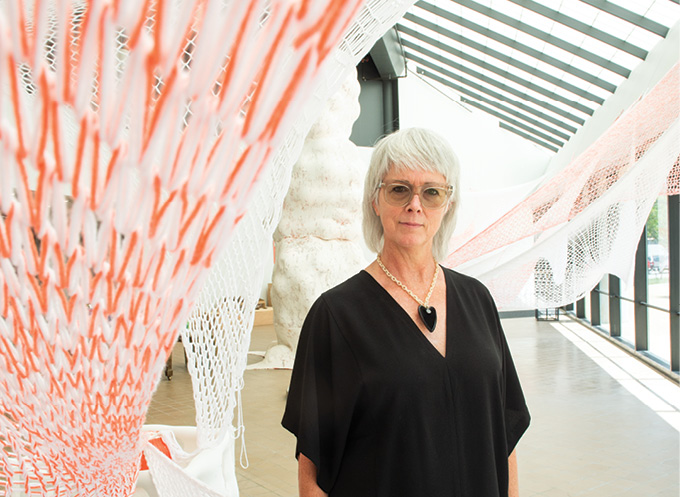 "We have people who commute here to be part of this community," said Siobhan Spain, Mainframe's director and only paid staff person. A few, who lived in other states, have moved to Iowa to be part of Mainframe, she said.
When the building's renovations are complete and all of the studios filled, Mandelbaum said he believes Mainframe will be the country's largest nonprofit studio building.
"I know there are larger for-profits," he said. "And we're probably the largest nonprofit building now; I've looked and can't find anything bigger."
More artists leads to more foot traffic
Artists housed at Mainframe are looking forward to having even more craftspeople at the site.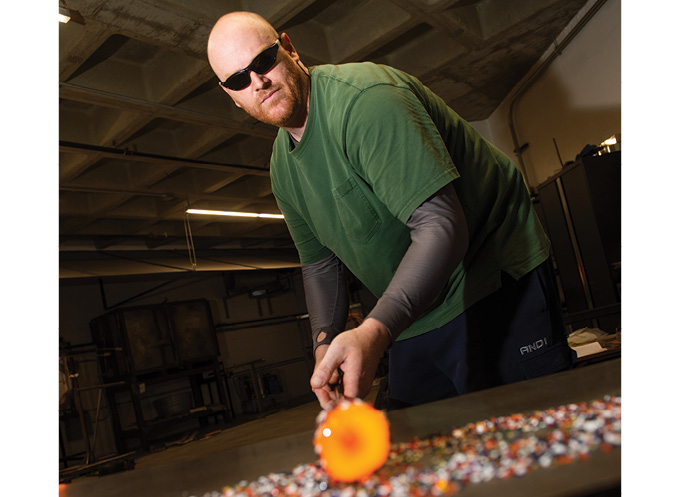 Jesse Bogenrief, who operates the hand-blown glass art shop JJ Gaffers, has been at Mainframe for about 2 1/2 years. He moved his business from northwest Iowa, where he had numerous individual customers, many of whom vacationed in the area. Now, his client list includes corporate clients and individuals who have found out about his glass-blowing business through visits to Mainframe.
"There's strength in numbers," Bogenrief said. "The more people that we have here, the more people who will come just to visit the building."
Bogenrief and other artists offer classes to the public. More artists in the building offering more classes means more foot traffic through the building and more opportunities to sell artwork that is created, he said.
Jason Wilson, who operates Dane Fabrication, a custom woodwork and metal design business, has been at Mainframe nearly two years. During that time, he's collaborated on projects with other artists. He said he's looking forward to working with an even larger group of people.
"More artists mean more traffic for me as well," he said.
Mainframe's impact on local economy
Before opening studios in Mainframe, many of the artists worked out of their houses, which limited their ability to make their businesses grow.
Since moving into Mainframe, artists have expanded their businesses and hired full- or part-time workers, Spain said.
"We had an untapped economic resource right under our noses," Mandelbaum said. "When you combine that all under one roof, now you're transforming them into an economic driver that serves to attract the creative class to Des Moines, and by extension, young professionals who want to be by that creative class.
"Attracting talent is the number one challenge of corporations. I think we've demonstrated that having plentiful jobs and having a low cost of living is not quite enough. Talent wants to live in cities that are exciting."
Mandelbaum, Spain and others associated with Mainframe are visiting community leaders, sharing the studio's successes and how it is affecting Des Moines economically and culturally. They said Mainframe Studios is also helping to elevate Des Moines' reputation as a community that supports artists and the arts.
The fundraising campaign, which accelerated this summer, is called "The Final Campaign."
"If we can meet our goals, we won't be asking for more money," Mandelbaum said. "We want people to know that."
Spain said the big push is to raise about $1 million by November so that new windows can be installed in the two floors that will be renovated. If the windows can't be installed before winter, the remaining renovations won't be complete by summer, she said.
"We really are ramping up our capital campaign to tell people you know, the sooner the better," Spain said. "We've proven our success. We're proving all the impact we're having on the community.
"Now it's time for us to be financially sound."